Tassen & Portemonnees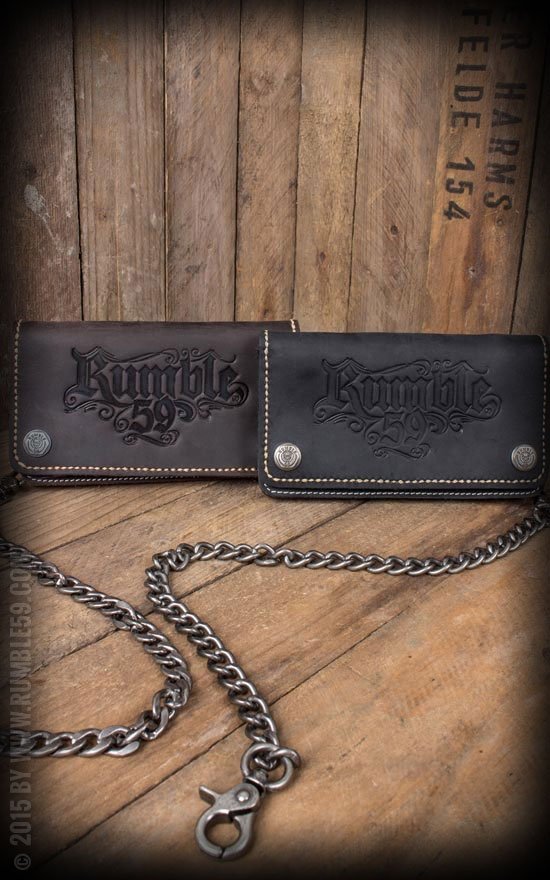 Om je outfit compleet te maken, Prachtige lederen portemonnees.


Bezig met laden...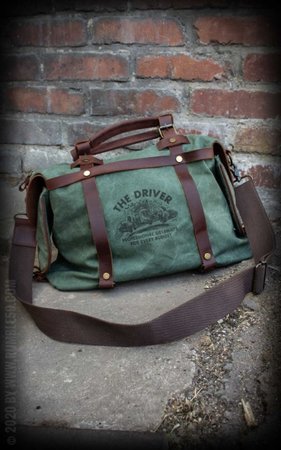 Duffle Bag The Driver
Isn't the driver the most important man in the team in every coup? Who would want to carry his stolen goods in the form of precious metals and pennies home on foot? To all "drivers" out there: this bag is made for you. For all of you who always wait with a beating heart and an iron foot on the gas pedal with stoic calm until the end of the robbery. You have a right to your own bag, which you prefer to fill directly with your share. This bag is for all thieves, lead feet or those who want to become one. Pedal to the metal!
Robust duffle bag with great leather and metal details.
This shoulder bag is made of robust canvas and real leather. Various straps with rivets as well as flaps and handles made of leather fit perfectly to the bag made of cotton canvas, which is printed on the front. An adjustable carrying strap is detachable and offers you optimal carrying comfort. It closes securely with a zipper and treasures all your utensils that are stored inside. With regard to storage space, it leaves nothing to be desired, as there are pockets of different shapes and sizes both inside and outside. Cash or gold bars fit in here just as well as a laptop or DIN A4 folder.So it is suitable for theft and office use without limitations, but is also a real eye-catcher and useful companion in your free time - for short trips it makes a good weekender.So it is suitable for theft and office use without limitations, but is also a real eye-catcher and useful companion in your free time - for short trips it makes a good weekender. On top it belongs to the kind of bags having already a great vintage look when they are brand new, but become even more beautiful the more they are worn - that's where the sturdy cotton fabric and leather get the extra finish.
The Duffle Bag "The Driver" at a glance:
Material: Cotton
Composition: 100% cotton canvas
Color: green, brown
Pattern: uni
Size: approx. 37 x 27 x 12 cm
One colored frontprint
High quality leather details
Removable and length-adjustable carrying strap
One large pocket on the inside and three small pockets including one with zipper
Outside two pockets with leather flap and one zipper pocket
Ideal size for DIN A4 folders, 15" laptop, etc.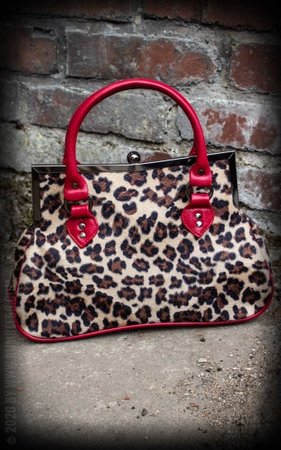 Leo Handbag
Rumors say that women are addictive to bags? So what? This incredibly cute handbag with faux leo fur is a must have for any woman - not only to carry around accessories, but also to show her wild side. And while we're at it: Archaeologists are reported to have already found the first women's handbags, in which more men's than women's accessories were found. Crazy!
Pin-up handbag with great leo fur and red highlights.
On the outside the handbag is made of fake fur with leopard print. Inside it surprises with a red lining, which besides the gaudy color also has a zippered pocket. The two handles, the bottom and the piping are also red and made of sturdy plastic. A sturdy metal frame surrounds the opening of the bag and a ball-clip closure makes it easy and safe to open and close. This handbag is just the right size to store more than just the most important utensils of a woman. Its perfect weight makes it easy to hold in your hand without causing any disturbance. Four metallic knobs protect the PU material from direct contact with the floor. Safety first!
The details of the Leo handbag at a glance:
Material: synthetic fiber
Composition: 100% polyester
Color: multicolor
Pattern: leo
Size: 35 x 22 x 9 cm
Silver metal frame with ball clip closure
1 inside pocket with zipper
Red lining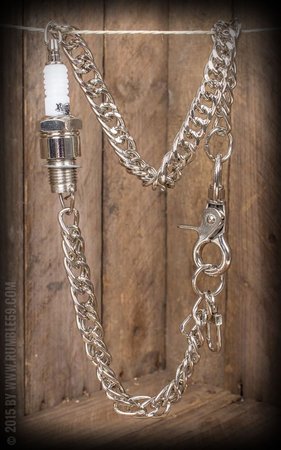 Rumble59 Wallet chain with spark plug
Rumble59 Wallet chain with spark plug
Get ready for ignition!
Premium chain in perfect and heavy design with imitation spark plug.
The spark plug is chrome plated stainless steel 1:1 and a real eye catcher.
The chain has a special hook to attach it at the belt look. On the other end, every chain comes with several options to attach it to your wallets. Makes a perfect gift that you won't find anywhere else.
Weight: 195gr
Length of chain: 55cm
(This is not a real spark plug, but a mock-item in original size)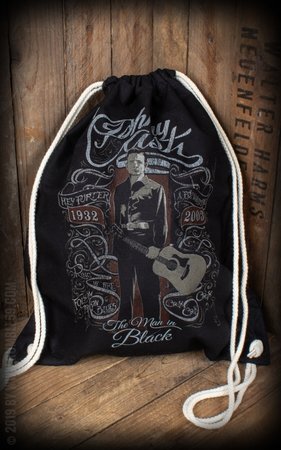 Cotton Rucksack The Man in Black
The once hated gym bags are now part of everyday life and are a great accessory due to the wide variety of designs. But where are those who also display really cool prints? The ones that show you that rock'n'roll is not just a trend for you, but a way of life? Well, here! Here you'll get an excellent accessory that will also pay tribute to the life's work of the great Johnny Cash.
Black cotton backpack with great Johnny Cash print.
This gym bag is made of 100% cotton and has solid straps on both sides. True to the dark soul of rock'n'roll, this cotton bag is black. One side has the multicolored and impressive print "The Man in Black". The featherweight material turns it into the perfect everyday companion: So what are you waiting for? Get your most important belongings and go to the gym, to university or even better to the next party or to the nearby festival.
The cotton backpack "The Man in Black" at a glance:
Material: cotton
Composition: 100% cotton, ca. 140 g/m²
Color: black
Pattern: other
Measurements: approx. 37 x 46 cm
One-sided, multicolored printing
Robust drawstrings
Rumble59 offers cool and useful accessories for
Rock'n'Roll
lovers! The black gym bag is a cool eye-catcher and faithful companion for going to the gym, university, concerts and shopping.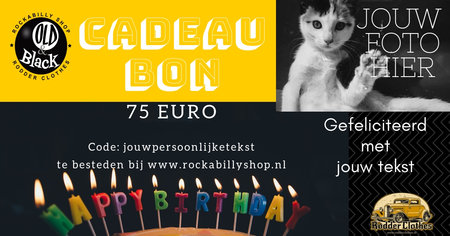 Cadeau Bon
Cadeau Bon
Je wilt graag je vriend of vriendin verrassen met een leuk en uniek cadeau en kan niet kiezen of je twijfelt over de maat.
Geen paniek, je kunt nu voortaan met de leukste cadeaubon van het internet een vrije keuze geven!
Je kunt kiezen uit verschillende waardes en je kan de cadeaubon op naam zetten, of rechtstreeks naar je vriend of vriendin laten sturen.
De cadeaubon komt gepersonaliseerd in je mailbox en kan je zelf printen of doorsturen zodat je niet op de post hoeft te wachten. Ideaal voor je last minute feest.
Vul in het opmerkingen veld bij je bestelling je wensen in, dan maken we er een persoonlijke surprise van.
* Wil je meerdere bonnen bestellen, geef dan duidelijk aan of deze los van elkaar gemaakt moeten worden of dat de waardes bij elkaar mogen opgeteld.
* Om de bon te verzilveren kun je slechtst 1 code per keer gebruiken bij het verlaten van de webshop.
* De bonnen mogen uiteraard ook bij een festival of evenement worden ingeleverd.
* De waardebon geeft geen recht op restitutie en is niet inwisselbaar voor geld.