Trui/ tops
Trui/ tops


Bezig met laden...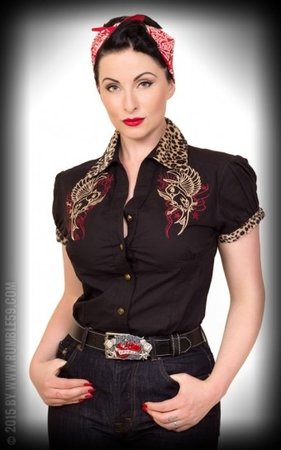 Blouse Heaven 'n' Hell - leo patch
The good or the bad - bad girl or cutie - heaven or hell... It's up to you wich side you choose! We advise to decide to be both - with our fantastic "Heaven 'n Hell" blouses.

Ready for your next favourite piece of clothing? This short-sleeve blouse "Heaven 'n' Hell" from Rumble59 has a slim-fitting shape. It has an elaborated embroidery on both sides of forepart as well as a smaller one on yoke of backpart. All emroideries match perfectly to the leo patch at collar and cuffs. The small Peter Pan collar from leo fabric, the sweet puff sleeves, the high-class embroideries as well as sweet metal buttons in shape of roses are responsible for the awesome look. This blouse looks great combined to our popular, dark-blue Rumble59 Jeans.

Composition: 100% Cotton
Colour: black with leo patch

Be prepared for a new kind of rockin' swallow tattoo shirt!

The swallow tattoo has it's seed in seafaring.
The legend of the british marine says that sailors who traveled more than 5000 seamiles got inked with a swallow. When having traveled more than 10000 seamiles they got inked with another swallow on their chest.
At that time traveling has been very dangerous. That's why a sailor with a swallow tattoo on his chest has been very experienced and of course of high value for the whole crew.
Another legend has it that a swallow returns to its nest every year - thus the sailor always returns to home.

The swallow tattoo has a long tradition being a symbol (for example: Sailor Jerry Collins). It's also a sign of love, care and affection to the family. For some people the swallow tattoo stands for freedom: Like the myth says a swallow is the only bird which dies in imprisonment or in a cage.

Basically swallow tattoos have a life-affirming meaning, because they are always connected with hope in any kind of view.
A pair of swallows could represent dearly connection or affinity with a fellow or rather a beloved human.
The swallow has got a religious meaning also. In the bible the swallow stands for somebody who lives under the protection of God: "Yea, the sparrow hath found an house, and the swallow a nest for herself, where she may lay her young, even thine altars, O LORD of hosts, my King, and my God." (Psalm 84, Vers 4).
A swallow could stand for a restart after having a hard time also.



Last but not least a swallow tattoo on the back of the hand means "These fists are flying!"
The symbol is worn by the tough guys of London and Glasgow to emphasize their skills at street fights.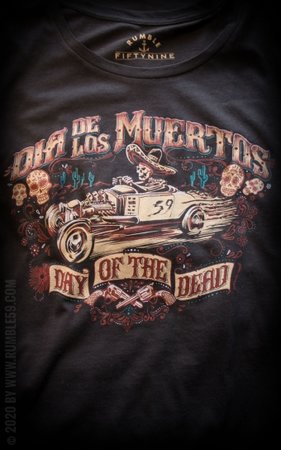 Day of the dead
On the "Day of the Dead", Mexicans remember their deceased by organizing a colorful festival in their honor, thus accepting death as part of life. Legend has it that the dead eat and drink together with the living on this one day of the year and laugh at the bony grimace of Father Death. Our ice-cold desperado here even uses the "Dia de los Muertos" for a last, deadly ride through the desert in his rod, which he built up during his lifetime. Are you up for a joy ride with Death? We do: Hold on to your sombreroooooooooo.
Colorful Mexican T-shirt with racy ghost driver.
This ladies t-shirt by Rumble59 is made of especially light and soft fabric. It's slightly wider round neckline emphasizes the decolletee perfectly! A large front print doesn't only convince with it's two colored vintaga design, but also with its pleasantly soft touch. Another convinving advantage of this shirt is the soft cotton fabric in classic black. You can't go wrong here: just grab it!
The details of the Ladies T-Shirt "Day of the Dead" at a glance:
Material: cotton
Composition: 100% cotton (120gr/m²)
Color: black
Pattern: other
Large frontprint
Artwork by Jan Meininghaus
Info: Please check our size chart for the perfect fit!